Property
Development
Customer
Relations
Property Development

Property Development is the core of what we do; in order to do this with maximum effectiveness we have developed a business that fully integrates all aspects of the process. This enables us to achieve consistently high standards and allows our clients to buy with confidence and clarity.

We specialise in astute land acquisition in key growth areas, ensuring our homes provide a high level of convenience to lifestyle and amenities, steady returns for owner-occupiers and strong rental yields for investors.

We work alongside carefully selected consultants to develop a master plan that considers all elements and its surroundings in creating communities that are inspiring, diverse and people friendly.

Design

We know that great planning and great architecture is about people.

We design homes that suit our clients, not the other way around.

Our design team works in close collaboration with our construction team and our clients to ensure that design expectations are reached and exceeded.

We guarantee considered design at all times by putting ourselves in our client's shoes.

Sales

We provide a high level of personal service and care to ensure the experience of buying a property is an enjoyable one for our clients.

Our in-house sales team have detailed knowledge of our products as a result of their regular onsite visits and input to the design process. This provides buyers with clarity and transparency about the end product.

We believe that how we do something is as important as what we do; therefore we place a huge emphasis on trust and integrity when dealing with our clients.

Customer Relations

We provide clients with ongoing communications and contact with our team to offer a property buying experience that is streamlined, straightforward and enjoyable from start to finish.

We believe that client input is vital when tailoring homes of quality, so we ensure that all feedback is heard and actioned. Our customer service representative acts as an advocate for our clients, ensuring that we deliver on our commitments.

Our dedication to our customers doesn't stop at handover. We work in close collaboration with our clients and the Owners Corporation to ensure the enjoyable property experience and customer care is ongoing, whilst proactively maintaining our clients homes.

Build

Our construction team share our commitment to a culture that is client driven, not profit driven.

We conduct a rigorous and robust review process to ensure that build quality of your home is of the highest standard.

Our holistic approach means that the development team, design team and construction team work together to build homes of enduring quality and value.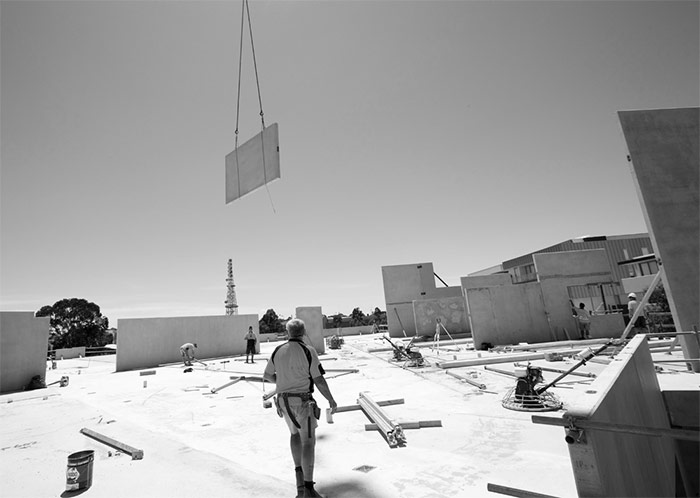 History
The seeds of the company that eventually became JMC Group were sown over twenty-five years ago, when Managing Director Martin Wagg built his first property.
From stand-alone residences to large master planned communities, Martin's understanding of construction has formed the backbone of JMC's methodology.
Community
At JMC we view building and developing healthy communities as a key imperative of our business practise.
We offer continued engagement with our communities by actively communicating for the residents benefit, organising events, assisting in the maintenance of public spaces and common areas and educating the owners corporation in the of importance community engagement and development maintenance. This nurtures and encourages community involvement, giving residents a sense of pride and ownership.
Further to this, when we commit to developing within an area, we strive to have a positive influence on the wider community in which we sit. Having cemented our ties to Melbourne's west thanks to our WillowPark development, we feel a strong obligation to support the local community.
JMC has implemented a number of initiatives in order to do this:
Contribute
Contribute to the local economy and its prosperity by continuing to increase the number of local suppliers and tradespeople we utilise.
Develop
Develop the future of young tradespeople by instigating an apprentice scheme within JMC and with the key contractors we employ.
Engage
Proactively engage with key stakeholders to ensure community infrastructure is developed and maintained to its full potential.